Have you heard of the MacDonald Family Singers?? They are such a blessing to us!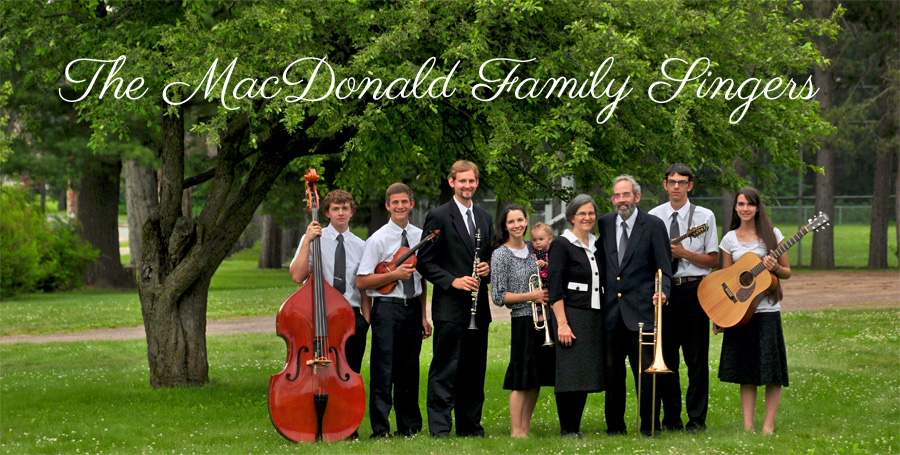 Here is their website! Check it out! http://www.macdonaldfamilysingers.com/index.php
Grace's family has enjoyed seeing them in Alabama when they winter there. We heard them in concert at Rumney Bible Conference at the end of June. Then they were playing the very next night in the next town over from us so we went again. We really connected with them. They don't charge for their concerts and their cd's are free and so is their music online, too! They are such a sweet family. We got talking about some things, and we happened to mention that we were headed on vacation near by to them in July, and they invited us to come and spend a night at their home and they would show us their gardens and fellowship with us. What a blessing!!!!!! Of course we said..."Oh yes!! We'd love to come!"
Here are a few shots from our time with them at their home in Orange, MA!
we had a great time even having homemade soft serve icecream with everyone!
A peek at our camp site!
#66!
The MacDonald family does the Back to Eden gardening system that we've just started! Professor Victor gave us a tour of his gardens! Wow!
Look at the size of those cabbages!
A family who doesn't watch TV--they've been given 2 VERY large tv's recently! They love to use them for ministry in viewing gospel type videos!
Grace got a real treat! Laurie MacDonald (The Mom) is an awesome piano player. She gave Grace some pointers and has even told Grace she'd love to record Grace's original song: Amazing Love on their next cd! Wow!!
We had such a wonderful time at their home. We did family devotions with them in the morning and we even had the blessing of singing some praise songs with them! Wow! We even got to go to a local thrift store with them where their daughter volunteers each day. It was a great time of fellowship and fun! Thank you!!